The 5 Leading Causes of Car Accidents in Texas
Reed & Terry, LLP has helped many people in the greater Houston area who have been involved in auto accidents. In fact, we have free consultations with people every week who want to know what steps they need to take to collect damages for their collision injuries.
What strikes us is that we tend to hear about the same kinds of car accidents whether we're speaking with a client at our office in Sugar Land, our office in Richmond, or our office in Katy. Each case is unique and every client's needs are different, but it got us asking: what are the most common causes of car accidents in the Lone Star State?
Our legal team took a look at some facts about 2021 crashes and this is what we found.
A Look at the Numbers:
Contributing Factors to Collisions
According to data from the Texas Department of Transportation, these were the five leading causes of car accidents in 2021:
Failed to Control Speed - 134,125 collisions
Driver Inattention - 82,705 collisions
Failed to Drive in a Single Lane - 45,743 collisions
Changed Lane When Unsafe - 42,638 collisions
Failed to Yield Right of Way Turning Left - 33,813 collisions
We should note that there were almost 43,000 crashes that were the result of other factors that did not fit into any neat categories.
Let's take a look at these top causes of crashes in the Lone Star state and offer a bit of insight into why these crashes happened.
1. Failure to Control Speed:
The Hazards of Speeding
According to the Texas Department of Transportation, failure to control speed was the most common cause of car accidents in 2021. This refers to a driver's failure to observe the posted speed limit or to keep up with the flow of traffic.
This is only one speed-related cause of crashes, however. Speeding numbers are a little more complicated than you might have expected. The state transportation department also noted that vehicles traveling at unsafe speeds led to 27,239 accidents and that driving over the speed limit caused 2,605 crashes.
If we combine all of these speed-related factors in accidents, there were 163,969 car crashes that were caused by speeding.
The Risks of Excessive Speed
A number of car crashes around Sugar Land and the outskirts of Houston tend to involve speeding, particularly when traffic lets up and people are in a rush to get to their destination. But remember, speed limits are in place for a reason, and it's crucial to abide by them. Driving at an appropriate speed provides ample safe stopping distance and reaction times.
2. Driver Inattention:
Distractions While Operating a Vehicle
Keeping your focus on the road and your surroundings is essential for safe driving. There are so many things that could divert a driver's attention these days. Just taking a moment to observe an accident or a stopped vehicle on the shoulder of the road could distract you long enough to cause a rear-end crash.
As with the speeding numbers above, there are a few nuances to consider when it comes to the numbers. For one, not all distractions are outside the vehicle. The state's department of transportation tallied 12,536 accidents caused by distractions within the vehicle itself. This covers eating while driving, reaching for objects while driving, and even actions by passengers that result in diverted attention. One type of distraction has gotten a lot of attention in the last decade, though.
Cellphones Behind the Wheel
The use of mobile devices while driving caused 2,840 accidents in Texas in 2021.
Our legal staff sometimes wonders if the real number could be higher. We say this because people may not want to confess to using their phones while they were behind the wheel. This would be an admission of fault in the car crash, for one. In addition, using a phone in hand while driving is illegal in Texas; any offenders of the cellphone law are fined up to $99 for their first offense.
3. Failed to Drive in a Single Lane:
Reckless Driving
Another major cause of accidents in Texas involves people not remaining in a single lane. This could involve passing other vehicles in traffic by constantly switching lanes, drifting into other lanes, or possibly weaving in a reckless manner. Whatever the behavior may be, this puts the driver as well as any nearby motorists at risk.
Other Lane-Related Collisions
A number of auto accidents around Katy involve other lane-related issues that are worth noting. In addition to people weaving and passing without regard to safety, the Texas Department of Transportation tallied 1,250 accidents caused by motorists passing in no-passing lanes. This could lead to deadly head-on collisions.
Another notable lane-related collision is a vehicle being disabled in traffic. This caused 1,687 crashes in 2021. This is obviously a hazard to any occupants in the stalled vehicle as well as any other drivers who approach said vehicle.
This does lead to something many motorists worry about on a daily basis.
4. Changed Lane When Unsafe:
Dangers in Blindspots
Whether on highways or city streets, changing lanes could lead to catastrophic accidents, sometimes involving multiple vehicles. In these kinds of accidents, the onus is on the driver to signal, check their rearview and side mirrors, and proceed into the next lane cautiously. A lot of times, drivers did not turn their heads to check their blindspots, leading to sideswipe crashes or sudden swerves into other lanes to avoid collisions.
Issues with Turn Signals
As with the speeding numbers, the Texas Department of Transportation had some additional numbers of note regarding lane changes and crashes. It's something we actually hear a lot when it comes to car accidents in and around the Richmond area.
Rather than just changing lanes when it's unsafe, the state's department of transportation noted that 774 accidents were caused because a driver failed to signal. Again, it's imperative that drivers use their blinkers in order to signal intent to change lanes, turn, or merge.
What's more, there were 104 crashes that were caused by defective signals or a total lack of turn signals. This could be on the driver for not changing bulbs or getting their vehicle maintained. It could also be the fault of automakers or service technicians for shoddy work that puts consumers at risk.
5. Failure to Yield When Turning Left:
Intersection Collisions
The fifth leading cause of car accidents is the failure to yield when turning left. These kinds of accidents are especially common when people are making unguarded left turns, yet crashes can still happen even when there is a dedicated traffic light for people turning left. Whether it's a guarded left turn or an unguarded left turn, the person turning left needs to wait until traffic is clear before proceeding with their turn.
Other Failure to Yield Intersection Accidents
In addition to left turns, failing to yield the right of way also applies to stops in general. There were 29,167 crashes in 2021 because of drivers who failed to yield the right of way while at a stop sign.
Even traffic lights cannot necessarily prevent these kinds of accidents. There were 2,568 crashes because of drivers who failed to yield right of way while turning on a red light. In a related matter, 3,046 crashes were caused by drivers who failed to stop at the proper place in an intersection, which puts their vehicle partially in the flow of traffic.
Finally, concerning intersection crashes, we noticed that 3,317 were caused by a failure to observe yield signs.
Additional Auto Accident Factors That We Feel Are Worth Noting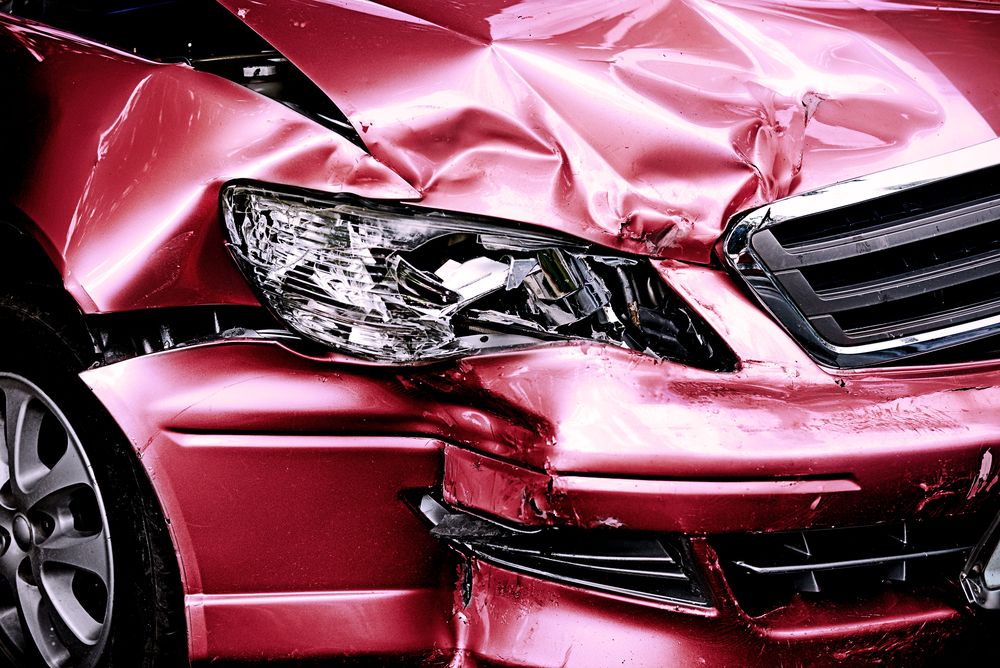 In addition to the five major causes of car accidents in Texas we've already covered, we want to highlight some common causes of collisions that we often see. These are all just a reminder to be careful when driving and to always be attentive to your surroundings whenever you are behind the wheel.
Faulty Evasive Actions
The Texas Department of Transportation tallied 21,460 vehicle accidents last year as a result of faulty evasive maneuvers. This covers swerving out of the way to avoid a perceived hazard, sudden braking, and so forth. While there are times we have to make split-second decisions while driving, it's best to anticipate possible dangers and to drive defensively while following all rules of the road.
Tailgating and Driving Too Close
There were 20,724 collisions caused by drivers following too close in 2021. It's crucial to keep an appropriate number of car lengths while driving just to account for stopping time and distances. This is especially crucial when driving at highway speed or in the snow or rain.
Drunk Driving Accidents
In 2021, there were 15,558 auto accidents caused by drunk driving. It is never permissible to drive while you are under the influence of alcohol or other controlled substances. Drunk drivers put themselves and others on the road at serious risk of serious or fatal injuries.
Something to Consider:
Multiple Contributing Factors May Be at Play
While these numbers are compelling, we want to point out something you may have already been thinking: multiple factors could be at play during a collision.
For instance, distracted drivers may not realize that they shouldn't change lanes because of nearby vehicles or other unsafe conditions. Or in another case, the reason a person may not be driving in a single lane is that they are speeding and in a rush. Or, in another scenario, there may be one driver using his phone trying to make an unguarded left turn while in the opposite lane of traffic there is another driver who is speeding and constantly weaving around vehicles so she won't be late for work; these two drivers could have a major crash in an intersection.
We just feel it's important to note that while there are many common reasons why collisions happen, the true cause of collision may involve multiple factors.
The Big Picture: How Many Accidents Are Happening in Texas?
So we know what the major causes of car crashes are, but we think these additional numbers from the Texas Department of Transportation offer an important sense of scope:
In Texas, a person is killed in an auto accident every 1 hour and 57 minutes
In Texas, a person is injured in an auto accident every 2 minutes and 12 seconds
In Texas, there is a reportable auto accident every 57 seconds
Why You Should Consult an Attorney
There are so many crashes happening throughout the state each day. If you or a loved one have been affected by a collision, it's worth discussing possible legal action with a lawyer. Damages can be used to cover medical bills, lost wages, and other losses or expenses caused by a crash.
Our Attorneys Can Help Those Affected by Auto Collisions
Car accident litigation can be complicated just given the realities of civil actions and what people need to fully recover from catastrophic injuries sustained during a collision. These issues can be compounded if you were in a vehicle accident with an uninsured or underinsured motorist.
Don't go it alone. No matter what caused your crash, it's important that you speak with people who understand injury law and how to make the system work for you. That's where our law firm comes into play.
Our law firm has served the greater Houston area for decades. With offices in Sugar Land, Richmond, and Katy, we can properly serve people throughout the region.
During a free consultation, we will review your crash and discuss your next steps. You don't have to hire us if you don't like what you hear.
We Work on a Contingency Fee Basis
Keep in mind that we work on a contingency fee basis.
If we accept your case, you will not owe us anything upfront. We will only collect attorney fees if we are able to reach a settlement or win a favorable verdict in court.
There is no risk and you have nothing to lose just by scheduling a legal consultation with us.
Contact Reed & Terry for a Free Case Review
Our team is ready to help you. We encourage you to contact Reed & Terry today.
---
About Jackson R. Reed
Attorney Jackson R. Reed has served clients since 1994. He is a member of the American Trial Lawyers Association (ATLA), the Texas Trial Lawyers Association (TTLA), the Houston Trial Lawyers Association (HTLA), and the State Bar of Texas.
Read Jackson Reed's Full Bio | All Posts by Jackson Reed
Related to This